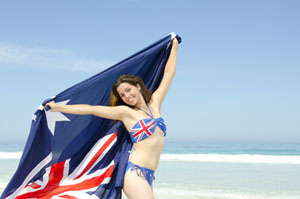 Should Aussies be able to get their hands on shorter Aust domains like www.domainname.au?
It's the main issue being mulled over by a panel reviewing domain name policies and they're asking the public whether such registrations should be allowed. 
Tasked by the .au Domain Administration (auDA), the Names Policy Panel is inviting comment on a 13-page issues paper about the way Australian domain names are allocated and used.
Swinburne University of Technology Adjunct Professor Derek Whitehead is heading the panel of Australian internet community members, who will "ensure that any changes will facilitate the continued growth and development of the .au domain, but not at the expense of its perceived value."
Everyone else is doing it. Why don't we?
The review follows the decision by many other countries to allow direct registrations in the second level, opening the door for debate on whether Australia should keep up with its peers.
Canada (.ca), France (.fr), China (.cn), Japan (.jp) and Singapore (.sg) have already gone down this path. Most recently, the United Kingdom (.uk) and New Zealand (.nz) accepted direct registrations.
.Wtf? New gTLDS are here
The Names Policy Panel review also comes at a time when hundreds of new generic top-level domains (gTLDs), such as .xyz, .ninja, .rocks, .wtf and .melbourne, have come onto the market.
It is noted in the paper that Australian internet users may demand changes in Aust domains as they get used to seeing so many different extensions available.
"For .au to remain a strong and highly-regarded TLD (top-level domain) we need not only to rely on its distinctive Australian identity and good reputation, but continue to innovate in order to counter the likely impact of hundreds of new gTLDs flooding the market," the paper states. 
"Whilst .au is currently very popular with Australian users, there is potential for new gTLDs to erode the brand equity in .au."
What's happening now 
The Names Policy Panel isn't the first panel to consider direct .au registration.
Over the past 15 years, other policy development panels convened by auDA have investigated the issue and recommended the status quo be retained.
Currently, Aust domains serve a certain type of entity or purpose.
The panel's considerations are limited to .com.au and .net.au for commercial entities, .org.au and .asn.au for non -profit entities and id.au for individuals.
Rules applying to Aust domains include: 
– First come, first served;
– Registrants must be Australian or registered to trade in Australia (ie ABN etc);
– Fixed two-year domain name licence period;
– Close and substantial connection;
– Registration for the sole purpose of resale isn't permitted.
We've got .au issues
The paper notes one of the arguments for the introduction of a new .au is it will provide greater choice and allow the registration of shorter Aust domains. 
For example, www.domainname.au is easier to remember than www.domainname.com.au.
However, Australians might not understand how the new .au should be used.
On the other hand, the existing system can be confusing.
"The current system has its own confusing elements, with two 2LDs for commercial entitles and two for non-commercial organisations, while the id.au 2LD appears not to be well known or widely supported, despite the best efforts of the industry," the paper states.
Another problem is Australian individuals aren't well served by the current system.
Up for discussion
On the topic of direct registrations, the panel wants to know what people think about the following questions:
– Do new gTLDs pose a threat to the .au brand? 
– Is there evidence of any market demand for direct registrations? 
– What types of registrants/users would benefit from direct registrations?
– What policy rules should apply to direct registrations?
– What issues would need to be taken into account as part of the implementation process? 
– Should .au follow the example of other ccTLDs like .uk and .nz?
The panel also invites comments on questions relating to the Aust domains .com.au, .net.au, .org.au, .asn.au and .id.au, such as: 
– Should the domain name licence period remain fixed at two years?
– Should the principles of "first come, first served" and "no hierarchy of rights" be retained? 
– Should the eligibility criteria be modified?
– Is the "close and substantial connection" rule desirable? 
– What changes are required to address the new practice regarding business name registrations?
The Aust domain rules relating to the reserved list (prohibits the registration of words and phrases restricted under Commonwealth legislation, without authorisation) and misspellings (prohibits the registration of misspellings of entity, personal and brand names) are up for discussion, as are other aspects of .au policy relevant to the panel's terms of reference.
How to get involved
There are two ways to provide comments, which must be submitted by midnight on  June 1, 2015.
The Panel will then publish its draft recommendations for further public comment before providing a final report to the auDA Board at the end of the year.
Get your hands on Aust domains
Search and register Aust domains at Zen Hosting and enjoy free features including free email forwarding and web forwarding as well as easy domain name management. If you make us your web host, you'll also get free plan set-up, a free website builder and free apps including WordPress, Joomla, Drupal, Magento, osCommerce and more.