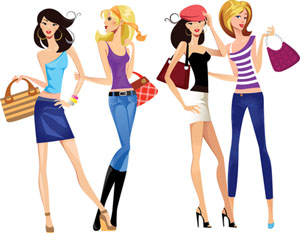 They say fashion comes and goes but style is forever.
Not anymore.
Fashion now has a dedicated – and permanent – space on the world wide web, so whether you're a designer, manufacturer, retailer, advertiser, reviewer, photographer, educator or one of the many lovers of fashion, you're going to want to make it your newest accessory.
It's not just the perfect fit for the clothing industry either. You can also use it for footwear, accessories, cosmetics and household decorating, whatever the price tag.
Here's everything you need to know to stay on trend. 
Dot is more fashionable
We're all familiar with extensions like DotCom (.com), DotNet (.net) and DotOrg (.org). They're examples of what can follow the last dot in website addresses.
The Internet Corporation for Assigned Names and Numbers has approved the creation of heaps of new and exciting extensions (also known as generic top-level domains or gTLDs), spoiling us for choice in the domain name space.
One of these is the .fashion extension – the choice of trendsetters.
It conveys the purpose of your site while promoting your style and helps you stand out from the crowd of competitors.
If you're an individual or business with an online store, blog, news website, virtual personal portfolio or a passion for fashion that you want to share with the world, register a .fashion website address today before someone else snaps up your preferred name.
How to dress your .fashion
Here are some examples of how you can style your .fashion web address.
www.YourName.fashion
www.YourBusiness.fashion
www.YourCity.fashion
www.YouGuide.fashion
www.YourReview.fashion
www.Season.fashion
www.Year.fashion
www.Clothing/Accessories/Footwear/Cosmetics/HomewaresCategory.fashion
The perfect fit
Anyone can get their hands on a .fashion extension, including: 
– Brands
– Stores
– Online sales
– Fashion events
– Fashion news
– Fashion magazines
– Fashion TV
– Fashion jobs (HR)
– Fashion schools / courses
– Fashionistas
– Fashion blog / vlog authors
.fashion forward
Gucci, Yves Saint Laurent, Chloe, Louis Vuitton, Moschino, Christian Louboutin, Jimmy Choo, John Galliano, Stella McCartney, Alexander McQueen and Abercrombie & Fitch are among the designers and groups parading .fashion domains.
Kmart has also registered a .fashion website, showing the gTLD can transcend all industries and economic values.
Check out these .fashion web addresses that were recently registered:
www.4you.fashion
www.tote.fashion
www.wigs.fashion
www.wiki.fashion
www.fedora.fashion
www.thehair.fashion
www.flipflop.fashion
www.howtosew.fashion
www.stiletto.fashion
www.sunglass.fashion
www.acoursein.fashion
www.jewellery.fashion
www.thebeauty.fashion
www.springcollections.fashion
www.atlantafashionweek.fashion
Fashionable purpose
You can use your .fashion domain name to:
– Launch a campaign;
– Redirect visitors to your existing .com, .com.au or other address; or
– Buy it, park it and use it at a later date. This way, you secure your preferred .fashion web address and it's there whenever you need it.