Whether you're a cPanel system administrator or hobbyist managing your own VPS or dedicated server, cPanel server management can be a tricky business.
Everyone from novices to IT professionals who find it hard to configure and maintain their system rely on Zen Hosting's Server Management.
Here, our experts address some common server issues.
1. Emails are going to the recipient's spam folder despite the creation of SPF, DMARC and DKIM DNS records
It's possible the IP address that has been assigned to your VPS or dedicated server isn't clean but is actually dirty.
A dirty IP is one that has been blacklisted.  A common reason for an IP being blacklisted is the VPS or dedicated server has been used to relay spam.  If your server uses cPanel, we highly recommend limiting the amount of email that an account can send.
You can check the VPS or dedicated server's IP address against multiple blacklists using Mxtoolbox's tool. 
If it's been blacklisted, you'll need to apply to the company for a delisting.
Not all blacklists are made equally.  Beware of any organisation requiring payment for express delisting such as
UCEPROTECT.
We highly recommend using a mail relay service such as SMTP2GO, which guarantees the delivery of your email to the destination server.
Some server configuration is necessary though.
2. You've just completed a server migration but the SPF records on the destination server contain the source server IPs
It is possible to replace IP addresses in the destination server's SPF records.
Say, for example, you'd like to replace "v=spf1 +a +mx +ip4:1.2.3.4. ~all" with "v=spf1 +a +mx +ip4:5.6.7.8 ~all".
Using ssh, you could run the following commands.
cd /var/named
sed -i 's/+ip4:1.2.3.4/+ip4:5.6.7.8/g' *.db
Restart named service
3. You want someone to access phpMyAdmin without giving them cPanel login details
If this is your requirement, you need to install phpmyadmin separately.
The cPanel team has no plans to add this feature.
4. A website is showing a red message warning that the site ahead contains harmful programs
This message isn't generated by the website itself but by Google.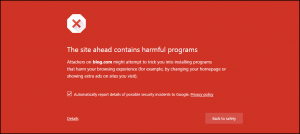 Unfortunately the website in question has been hacked and requires cleaning.
Having a good malware detection and prevention platform such as Imunify 360 can assist with malware detection and prevention.  A free alternative is
ConfigServer eXploit Scanner
(CXS). However, the Zen Hosting team has found that CXS takes a long time to run on OpenVZ VPS instances.
If possible, you and your team should revert to a clean backup of the website and then secure it to help prevent it from being hacked again.
Unless the flaw is fixed, the site will become hacked again.
It you don't know when the website was hacked or if a certain backup is clean, we recommend WordFence's WordPress Site Cleaning Service.
As of April 2021, the site cleaning service includes a premium version of the WordFence plugin.
The Wordfence plugin
is one of the best security plugins for WordPress on the market. It can block unauthorised login attempts, for example. You can even set up regular malware scans.
Once you've verified that the website is free of malware, you need to contact Google's team to Request a Review.
Do you have other server management questions that need answering? Read part II or contact the Zen Hosting team.