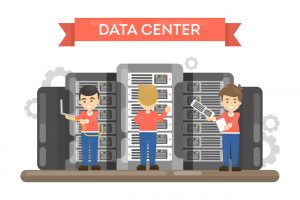 "What is a dedicated server?" is a question many website owners will ask as they search for the hosting solution that suits their needs.
Here's an overview of dedicated servers, including who should consider one and how to choose a server, to help you decide if it's the best option for you.
What is a dedicated server
A dedicated server is a computer on a network dedicated to a certain task, such as running your website or application.
If it doesn't sound that exciting, consider this: Most web hosting is shared hosting.
This means your website is one of many on a server that share its resources, such as RAM and CPU.
In situations where the web host overloads the server or a neighbouring website uses a lot of resources, your website or app's performance may suffer.
Also, you can only use the software that the web host makes available to you, so a lack of flexibility is another major disadvantage.
With a dedicated server from a web host, however, you get the whole server and its resources all to yourself.
There's no more vying for resources with others or security risks due to someone with a site on the server not practising solid security measures.
You are in complete control of creating your site's hosting environment, reaping the benefits of higher speed, security and customisation.
A dedicated server is one of the few hosting solutions that can guarantee isolated resources.
A dedicated server could be the best hosting for you
A website owner prioritising performance, security or the ability to fully customise their hosting solution should consider a dedicated server.
It is a popular choice for people with sites that serve up a lot of content or have high traffic.
You'll also find dedicated servers in use among web developers and agencies who are responsible for many sites. They are the preferred hosting solution of companies that must handle sensitive data in accordance with government regulations such as the healthcare sector.
How to choose a dedicated server
When it comes to choosing a dedicated server, the main considerations are technological, such as the server's processor type, storage space, memory and bandwidth.
You'll want to know where you stand when it comes to DDoS protection and back-ups.
Be sure to also ask your potential host about the server's location.
You need to find an established web host with an excellent reputation and fast technical support.
Server management
The freedom to modify your hosting environment means anyone with a server needs to manage it or get server management.
Once your server is provisioned, there are system administration duties to do. This includes server set-up and configuration such as choice of operating system and software.
You are responsible for security measures, optimisation, performance, uptime monitoring, updates, regular maintenance, troubleshooting issues, handling downtime and back-ups.
People with tech know-how in server administration can opt for an Unmanaged or Self-Managed dedicated server and undertake these duties.
Those without the knowledge or time to manage a server can choose a Managed Dedicated Server and let their host do the work. This is a cost-effective solution compared to hiring technicians.
Note: Zen Hosting can manage a cloud server or dedicated server even if it doesn't belong to Zen Hosting as long as we have root access to it.
Servers with management come Semi Managed or Fully Managed. The definition and price varies at each provider, so find out what the host covers before making a purchase.
Software for your dedicated server
You server management team can help you choose the best operating system for the website or app on your server.
If you opt for a Linux server, there is software to consider such as cPanel, JetBackup, Softaculous, CloudLinux and Imunify to name a few.  
Otherwise, you can choose a version of the Windows operating system along with addons such as SQL Server 2019, the Plesk Obsidian control panel or the free SolidCP control panel.
Note: If your website or application needs load balancing, we can assist you by deploying multiple VPS instances or dedicated servers.  We can even virtualise your dedicated server so you can create VPS instances of your own.
If you're not sure of your needs, contact Zen Hosting.
Thanks for reading! We trust you now understand what is a dedicated server.
The Zen Hosting team
Zen Hosting is an established web hosting provider ready to help you harness the power of a dedicated server. We offer Managed Servers in Australia supported by qualified Linux and Windows experts, so updating your server or software doesn't cost you time or resources. Our complete server management includes server set-up, optimisation, security, proactive maintenance, uptime monitoring, server and software updates, and fast helpdesk support. We also have Unmanaged Servers for people with the tech know-how to take total control of their web hosting solution. See our dedicated server plans for more information or  our customer reviews on Google Business page and Facebook.