This guide on how to install WordPress makes it really easy to get started with the world's favourite platform for website creation.
WordPress is used for everything from simple blogs to business websites boasting hundreds of pages.
Choose Zen Hosting's cheap web hosting, business web hosting or reseller hosting and you'll get free access to WordPress.
Using cPanel to install WordPress
As a Zen Hosting web hosting client, log into Zen Hosting's cPanel, then click Softaculous Apps Installer under the Software and Services heading.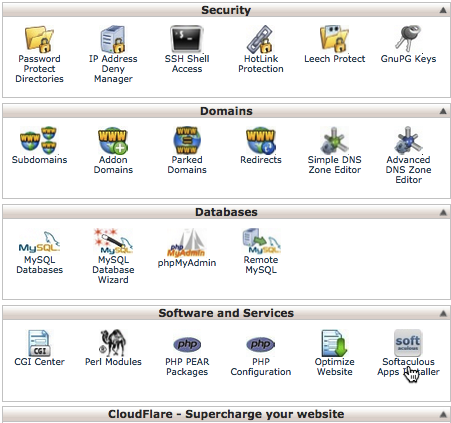 You can use Softaculous to install applications like WordPress at just the click of a button. It's the leading installer and can also be used to install Drupal, Magento, OpenCart and more.
Hover your cursor over WordPress, then click Install.
On the next page, you can specify the protocol.  If you don't have an SSL certificate installed, choose from either http:// or http://www.  Next, choose the appropriate domain from the dropdown menu.  If you leave the In Directory field empty, WordPress will be installed to the root domain (eg zenhosting.com.au) otherwise it will be installed to a subfolder, with the name you enter in the In Directory textfield (eg zenhosting.com.au/wordpress/).
Be sure to give your installation a name.  You don't need to enable Multisite, so leave the box unchecked.
We highly recommend you choose an Admin Username other than "admin" and a complex password consisting of lowercase and capital letters and numbers. This is a really easy strategy to help keep hackers at bay.
Click Advanced Options and check the boxes for Auto Upgrade, Auto Upgrade WordPress Plugins and Auto Upgrade WordPress Themes.  For automated backups, select Once a Day in the dropdown menu.
Don't forget to enter an email address in the "Email installation details to" field.
Click the Install button.
Be sure to take note of the web page that the administrator must use to log in, the username and password.
And that's how to install WordPress. Happy building!
Thanks for reading,
The Zen Masters
(Technical experts at  Zen Hosting)
If you're a Zen Hosting web hosting client and need help with how to install WordPress, please contact us. Otherwise, sign up for cheap web hosting or business web hosting to get started. Reseller hosting, cheap domains, dedicated IPs and SSL certificates are also part of the Zen Hosting service.